$199 In Stock & Custom Show Blankets
Backroad Trading Company has the perfect show blanket to tie together your winning look.
Shop in stock show blankets or contact us for a custom design with 4-5 week delivery! Our in stock pads are oversized, 34x42, and custom show pads can be ordered in any size.
contact us about custom show blankets
What Are people saying about backroad trading co?
You can't beat how friendly, helpful and professional they are! Beautiful high quality pads, priced great and fast shipping! Would definitely recommend. Thank you!!!!

Michelle
This company has top notch service. I have tried to order a custom pad from other companies and have met resistance with the colors I wanted and the timeline I need it. I ordered from Back Road Trading and they got back with me right away and have exceeded all of my expectations! Thank you!

Mikeala
Fantastic customer service and shipping was lightning quick! My pad came today! It's even more beautiful in person and such great quality. Can't wait to show in it in a week and a half!!

Marija
The show pads are GREAT! We will be buying all of our pads from BRT in the future! Thanks again!

Jeff Ray
BRT made ordering a custom blanket very simple. I sent them the colors I needed to match, they worked up a design and emailed me a mockup draft. It was a very easy process and I received the blanket ahead of schedule. Couldn't be more please. My granddaughter loved it.

Shelly
Meet The Owners
"Hey everyone! We are the owners of BackRoad and we are passionate about creating unique products that give you confidence in the show ring. Our specialty is creating custom show pads, and we are obsessed with the process! If you don't see an in stock pad on our website that is perfect for you, reach out and let's make something extraordinary!"
xoxo Frankie & Allie
2023 Events & Horse Shows
Find us in the Showgirls Apparel booth at these major shows:
~Prairie Classic QH Show
Feb 8-13 Oklahoma City
~Sun Circuit
March 4-12 Scottsdale, AZ
~NRBC 
April 16-23 Oklahoma City
~Redbud Spectacular
June 1-11 Oklahoma City
~NRHA Derby
June 13-25 Oklahoma City
~Paint World Show
June 26-July 9 Fort Worth, TX
~Arabian Youth Nationals
July 13-21 Oklahoma City
~AQHYA World Show
July 28-Aug 6 Oklahoma City
~NSBA World Show
Aug 10-20 Tulsa, OK
~Quarter Horse Congress
Sept 27-Oct 23 Columbus OH
Stay tuned for updates!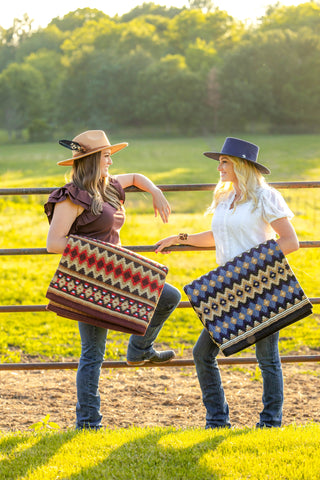 Regular vs. Elite BRT Show Blankets
Our Regular $199 pads have been the cornerstone of our business, and many of you have told us that "we don't need to purchase $800+ pads because your quality is so good!" Well... good just got BETTER!

Our new ELITE LINE of show pads are next level. These new pads are comparable to high end blankets, but with quicker turnaround time and for only $399! Finer wool, tighter weave & higher quality! The Elite pads come with an embroidered carrying bag, and only take 6-8 WEEKS.
Shop Now: In Stock ELITE Pads